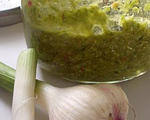 Prep: 10 min
Cook Time: –
Total: 10 min
Serving: 4 Servings
Green garlic tops and garlic, fresh parsley and a fresno chile pair to bring you this delicious almond-based pesto-like sauce. Toss with fresh, warm pasta or slather into your favorite pita sandwich for an intense burst of flavor.
Ingredients
1 bunch of green garlic tops, about 6, roughly chopped
1 clove of fresh green garlic, peeled
1/2 cup Italian parsley, chopped
half a fresno chile, seeded and minced
1/4 cup raw almonds
1/4 cup extra virgin olive oil
zest and juice of one lemon
sea salt and freshly ground pepper to taste
Directions
Place the green garlic tops, garlic clove and parsley into a food processor and pulse to combine.
Add the almonds and the chile to the mixture and continue to process unitl finely chopped.
With the processor's motor running, slowly pour the oil down the processor flute and mix until blended. Transfer the mixture to a bowl and stir in the lemon zest, juice and a few pinches of salt and pepper; serve immediately.