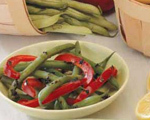 Prep: 10 min
Cook Time: 12 min
Total: 22 min
Serving: 4 Servings
If possible, use seasonal fresh green beans from your local farmer's market for this vividly colored and delicious side dish.
Ingredients
2 pounds green beans
6 cloves garlic, thinly sliced
1/2 teaspoon crushed red pepper
2 tablespoons olive oil
1 small red sweet pepper, cut into thin strips
1 teaspoon finely shredded lime peel
2 tablespoons lime juice
Directions
Cook the green beans in a saucepan of boiling salted water for 6 minutes, then remove, rinse with cold water and drain.
Place a large sauté pan over medium heat and add the olive oil.
Once the oil begins to shimmer, add the garlic, the crushed red pepper and the strips of sweet pepper and cook for 2 minutes.
Stir in the beans and cook for an additional 4 minutes, then sprinkle with a few pinches of salt and transfer to a serving dish.
Top the bean mixture with the lime peel and the juice, toss to coat and then serve immediately.