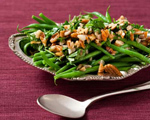 Prep: 10 min
Cook Time: 15 min
Total: 25 min
Serving: Makes 12 Servings
Typical green beans take on a new persona when tossed in a rich and nutty pecan brown butter sauce. Serve this elegant dish as a complimentary side to roast chicken or pork tenderloin.
Ingredients
3 pounds thin green beans, trimmed
6 tablespoons unsalted butter
1 cup pecans, coarsely choppped
2 garlic cloves, finely chopped
1 teaspoon sea salt
1/2 teaspoon freshly ground black pepper
1/4 cup finely chopped fresh flat-leaf parsley
Directions
Bring a small pan of salted water to a rolling boil and then add the beans and cook for 4 minutes. Immediately transfer the beans to a bowl filled with cold water and then drain.
In the meantime, place the butter in a large sauté pan over medium heat and cook, stirring frequently, for 3 minutes until browned. Add the pecans and the garlic, stir to coat with the butter and then cook for an additional 2-1/2 minutes.
Transfer the beans to the pan, add the salt and the pepper and then toss the mixture to combine. Cook for 4 minutes and then serve immediately topped with the chopped fresh parsley.