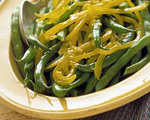 Prep: 10 min
Cook Time: 22 min
Total: 32 min
Serving: 8 servings
This simple yet delicious side dish combines green beans and yellow sweet peppers with a rich yet delicate butter sauce. Its vibrant colors of green and yellow give it stunning presentation at the dinner table.
Ingredients
1 tablespoon butter
1 medium yellow sweet pepper, coarsely shredded
6 tablespoons margarine or butter, softened
1/4 cup pine nuts
1 tablespoon lemon juice
1/4 teaspoon salt
1/8 teaspoon freshly ground black pepper
1-1/2 pounds green beans, trimmed
1 large yellow sweet pepper, cut into thin strips
Directions
Place 1 tablespoon of butter into a small sauté pan over medium-high heat. Once melted, add the shredded sweet pepper and sauté for 6 minutes; set aside.
Put 6 tablespoons of butter into a food processor along with the pine nuts. Process the mixture until smooth and then add the sautéed sweet pepper, the lemon juice and the salt and pepper. Puree the mixture until combined.
Place the green beans in a saucepan and add about 1 inch of water. Cover the beans and cook over medium-high heat for 12 minutes, adding the sweet pepper strips during the last 4 minutes of cooking.
Drain the bean mixture and then place on a serving plate. Drizzle with the butter and pine nut sauce and serve immediately.