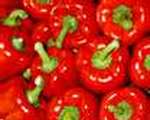 Prep: 15 min
Cook Time: 15 min
Total: 30 min
Serving: 4
Green Beans and Pepper Strips are a great combination and make for a delicious and unique side dish.
Ingredients
1 1/4 pounds fresh green beans
2 green onions, sliced
2 tablespoons olive oil
1 red pepper, cut into strips
1 teaspoon dried marjoram
2 tablespoon water
1/4 teaspoon salt
pinch of black pepper and pinch of cayenne
Directions
Wash beans; trim ends and remove strings. Cut into 1 1/2 inch pieces; set aside. Saute green onions in hot oil in a large skillet for 1 minute.
Stir in green beans and remaining ingredients; bring to boil. Cover, and reduce heat. Simmer for 15 minutes.