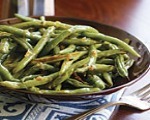 Prep: 20 min
Cook Time: 10 min
Total: 30 min
Serving: Serves 4 people
Green Bead Salad with Dijon Vinaigrette Dressing is a lovely side dish for many types of meals.
Ingredients
1 pound of green beans
1 tablespoon olive oil
1 ounce butter
1/2 garlic clove, crushed
2 ounces breadcrumbs
1 tablespoon parsley, chopped
1 hard-boiled egg, chopped
1/4 cup toasted, slivered almonds
For Dressing: 2 tablespoons olive oil
2 tablespoon vegetable oil
2 teaspoons white wine vinegar
1/2 garlic clove, crushed
1/4 teaspoon Dijon mustard
Salt & pepper to taste
Directions
Trim the green beans and cook in boiling water for about 5 minutes (or until tender). Drain and rinse under cold water. Add to a serving bowl and set aside.
To make the dressing, blend the 2 tablespoons olive oil, vegetable oil, vinegar, 1/2 clove garlic, mustard, sugar and salt. Whisk together until well blended. Pour over the beans and mix to coat.
In a medium-sized saute pan over medium-high heat, melt the olive oil and butter and cook the garlic for about a minute. Add the breadcrumbs and cook, stirring, for about 4 minutes (or until golden).
Remove the pan from the heat and add the parsley and egg. Sprinkle the breadcrumb mixture over the green beans. Sprinkle with the toasted almonds.