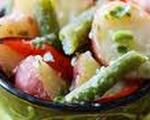 Prep: –
Cook Time: 1 hr 5 min
Total: 1 hr 5 min
Serving: 2-4 People
Summer and late fall is prime time for green beans, giving you the delicious opportunity to try these crisp tender green bean dishes.
Ingredients
12 small new potatoes, halved
Salt and freshly ground black pepper, to taste
2 teaspoons dried oregano
1/2 cup extra-virgin olive oil, divided
1/4 cup chopped pecans
2/3 pound thin green beans, trimmed
1/4 cup fresh tarragon, minced
1 tablespoon red wine vinegar
2 tablespoons Dijon mustard
2 cloves garlic, minced
1/2 teaspoon honey
5-ounces watercress
6-ounces crumbled goat cheese
Directions
Preheat oven to 325 degrees F. Arrange potatoes on a sheet pan and season with salt, pepper, and oregano. Drizzle 1/4 cup olive oil over potatoes and roast until fork tender, about 1 hour. Remove potatoes from the oven and set aside.
Spread pecans on a sheet pan and place in the oven for 3 to 4 minutes to toast. Meanwhile, steam green beans in a pot until crisp tender, about 3 minutes. Strain beans then dunk in ice water.
In a small bowl, whisk tarragon with red wine vinegar, mustard, garlic, honey, and olive oil.
Combine watercress with potatoes and green beans then top with pecans and goat cheese. Drizzle dressing over vegetables and gently toss to coat.