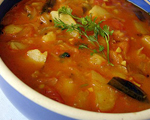 Prep: 20 min
Cook Time: 45 min
Total: 1 hr 5 min
Serving: 10 servings
It's amazing how the simplest ingredients can produce the most profound flavors. Serve with fresh country bread, feta cheese and some Greek olives.
Ingredients
3/4 cup olive oil
2 onions, peeled and chopped
2 carrots, peeled and chopped
2 celery sticks, chopped
Salt and freshly ground pepper to taste
1 bunch parsley, washed, trimmed and chopped
1/4 cup tomato paste
4 cups cooked white beans, like cannellini beans
Directions
In a large soup pot, add 1/3 third of the olive oil and heat over medium heat.
Add in half each of the carrots, onions and celery and sauté for about 8 minutes until soft. Sprinkle with salt and pepper.
Pour in the remaining oil and the remaining carrot, onion and celery, and sauté for another 8 minutes. Sprinkle again with salt and pepper.
Add the parsley, cabbage and chard to the soup pot and continue to sauté for an additional 6 minutes.
Place the beans, with their liquid, in the pot as well as the tomato paste. Stir to combine.
Add enough water to the pot to reach the desired consistency of the soup and continue to simmer for 20 minutes. Check seasoning and serve hot.