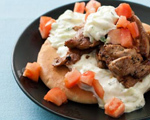 Prep: 10 min
Cook Time: 7 min
Total: 17 min
Serving: 4 Servings
Enjoy pieces of marinated pork on top of warm pita, and slathered in cool and creamy tzatziki sauce.
Ingredients
1 pound pork tenderloin, cut into 3-inch slices
3 tablespoons extra-virgin olive oil, plus more for brushing pita
2 cloves garlic, coarsely chopped
1 teaspoon dried oregano
1 English cucumber, peeled and coarsely grated, and squeezed to remove liquid
1 17.6 ounce (500g) container plain Greek-style yogurt
1 tablespoon extra-virgin olive oil
2 teaspoons red-wine vinegar
2 tablespoons chopped fresh mint
1 clove garlic, minced
salt and freshly ground pepper
4 pocketless pita
2 medium tomatoes, diced
Directions
Place 3 tablespoons extra-virgin olive oil, 2 cloves of garlic and oregano into a large bowl, add the pork and toss to coat. Cover and let stand at room temperature for 30 minutes to marinate.
In another bowl, place the cucumber, yogurt, 1 tablespoon extra-virgin olive oil, vinegar, mint, 1 clove garlic and a few pinches of salt and pepper. Stir until thoroughly blended and then set aside.
Place the marinated pork on a broiler pan and sprinkle with some salt and pepper. Put the pork under the broiler for 6 minutes, turning once halfway through the cooking time. Remove the pork and set aside.
Brush the pita with oil and place in the oven for 1 minute to warm. Transfer to a serving platter, top with the tzatziki, the pork and tomato. Serve immediately.