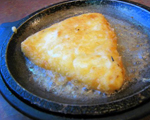 Prep: 2 hr
Cook Time: 4 min
Total: 2 hr 4 min
Serving: 8 slices
Saganki is Greek cheese, fried in butter or olive oil and then doused in fresh lemon juice. Considered a typical Greek "mezes," or "small dish," serve the saganaki hot from the pan and enjoy with a bottle of Shiraz in the company of good friends.
Ingredients
8 (1/2-inch) slices Kasseri cheese
Salt
Freshly ground black pepper
2 cups brandy
1 cup flour
4 tablespoons butter
2 lemons, juiced
8 rounds of pita bread, brushed with olive oil, sprinkled with oregano and grilled
1 cup Kalamata olives
Directions
Sprinkle the cheese slices with salt and pepper and then place in a shallow dish with the brandy. Cover the dish and marinate in the refrigerator for at least 2 hours.
Place the flour in a shallow bowl and sprinkle with salt and pepper.
Take the cheese out of the dish and dredge in the flour, evenly coating.
Heat the butter in a large sauté pan over medium-high heat and add the cheese. Fry the cheese for 2 minutes on each side until golden brown.
Remove the cheese from the pan and place on a serving plate. Pour the lemon juice over the cheese and serve with the kalamata olives and pita bread.