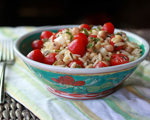 Prep: 15 min
Cook Time: 10 min
Total: 25 min
Serving: 4 Servings
Instead of serving rice, try pairing this side dish with your favorite main dish protein. Serve with crumbled Feta cheese and garnish with a few Kalamata olives.
Ingredients
4 cups chicken broth
1-1/2 cups orzo
1 (15 oz.) can garbanzo beans, drained & rinsed
1-1/2 cups grape tomatoes, halved
3/4 cup finely chopped red onion
1/2 cup chopped fresh basil leaves
salt & freshly ground pepper
For the vinaigrette:
1/4 cup red wine vinegar
1 lemon, juiced
1 teaspoon honey
1 teaspoon salt
1 teaspoon freshly ground black pepper
1/2 cup extra virgin olive oil
Directions
In a large saucepan, bring the chicken broth to a boil over high heat. Put in the orzo in the pan and cook, stirring frequently, until orzo is al dente, about 8 minutes.
Meanwhile, whisk the vinegar, lemon juice, honey, salt, pepper and olive oil together in a small bowl.
Drain the orzo and place in a large serving bowl. Pour over the vinaigrette and toss. Wait a few minutes for the orzo to cool down and then add the garbanzo beans, tomatoes, onion and basil. Crumble feta cheese on the top of the salad and garnish with Kalamata olives.