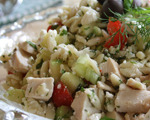 Prep: 15 min
Cook Time: 12 min
Total: 27 min
Serving: 4 Servings
The fresh and delicious flavors of Greek cooking really shine in this healthy and colorful orzo salad with chicken. This recipe is a great way to use leftover roasted chicken to create a tasty new dish.
Ingredients
3/4 cup uncooked orzo
3 tablespoons extra-virgin olive oil
3 tablespoons freshly squeezed lemon juice
1 1/2 tablespoons red wine vinegar
2 chubby garlic cloves, minced
1/2 teaspoon salt
1/4 teaspoon freshly ground black pepper
2 tablespoons chopped flat leaf parsley
2 tablespoons chopped fresh oregano leaves
2 tablespoons chopped fresh basil leaves
1 tablespoon chopped fresh dill
1/3 cup thinly sliced green onions
1 cucumber, peeled, seeded, quartered lengthwise and sliced
1 cup grape tomatoes, quartered
2 cups chopped cooked chicken
1 (4-ounce) package crumbled feta cheese
Kalamata olives, pits removed, chopped
Directions
Cook the orzo according to package directions, drain and then rinse with cold water. Transfer to a large salad bowl.
In the meantime, place the olive oil, lemon juice, red wine vinegar, garlic, salt and pepper into a small bowl and whisk vigorously until thoroughly blended.
Pour some of the dressing over the cooked orzo and toss to coat. Add the chopped fresh herbs, green onions, cucumbers and tomatoes to the bowl, toss and then add the chicken, feta, olives and remaining dressing; toss one again to combine. Serve the salad at room temperature.