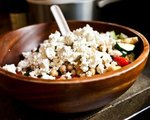 Prep: –
Cook Time: –
Total: –
Serving: 4 Servings
This is a great make-ahead meal with all of your nutritional needs covered.
Ingredients
1 cup dry millet
2 medium zucchini, chopped
1 pint cherry tomatoes
6 inches of English cucumber, chopped
10 black or kalamata olives, pitted and chopped
1 can garbanzo beans, drained
1 block feta cheese, about 4 ounces or so
1-1/2 tablespoons olive oil
1 tablespoon lemon juice
1/2 teaspoon kosher salt and 1/4 teaspoon pepper (or to taste)
Directions
Cook the millet with 2:1 water to grain.
Cook the zucchini and tomatoes in 1 teaspoon of olive oil in a hot skillet until brown and tender. Add to the millet.
Add the cucumber, olives and garbanzos to the millet.
Drizzle on the olive oil, lemon juice, salt and pepper.
Crumble the feta cheese over the millet.
Serve it chilled.