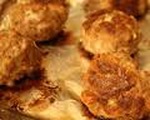 Prep: 10 min
Cook Time: 5 min
Total: 15 min
Serving: 24
Meatballs are versatile little goodies that can be made with any type of ground meat. If ground lamb does not strike your fancy, substitute lean ground beef, turkey, chicken or pork. Meatballs are a fabulous finger food but can also be added to marinara sauce to top whole grain pastas or stuffed in a pita pocket for a substantial meal.
Ingredients
2 slices whole wheat bread, torn into small pieces
¼ cup lowfat 2% milk
½ pound lamb shoulder or loin chop, trimmed of fat, ground*
1 tablespoon water
1 teaspoon dried thyme
1 teaspoon dried marjoram
½ teaspoon cinnamon
¼ teaspoon ground cardamom
¼ teaspoon salt
Black pepper to taste
1 tablespoon olive oil
Directions
Combine bread and milk in a large mixing bowl, mashing bread with fork until mixture becomes a thick paste.
Add lamb and water, using your hands to combine bread paste and lamb.
Add spices and mix until ingredients are well incorporated.
Moisten your hands with water and form 24 meatballs. Place completed meatballs on a cutting board or plate.
Heat oil in a large skillet over medium-high heat. Place 12 of the meatballs in skillet, in a single layer, and cook, turning occasionally, until all sides are evenly browned, about 4 to 5 minutes total. Remove with a slotted spoon and place on a clean plate.
Tent with foil to keep warm while cooking the second batch.
Insert toothpicks into meatballs and serve immediately with a marinara sauce or a creamy yogurt sauce for dipping.
*Ask your butcher to grind lamb for you or use your food processor at home.