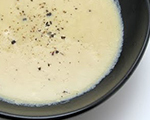 Prep: 10 min
Cook Time: 20 min
Total: 30 min
Serving: 4 Servings
Rice is replaced by the addition of tofu in this delicious vegetarian soup. Serve with toasted garlic bread croutons and a drizzle of extra-virgin olive oil.
Ingredients
4 cups reduced-sodium vegetable broth
1/3 cup white rice
1 12-ounce package silken tofu (about 1-1/2 cups)
1-1/2 tablespoons extra-virgin olive oil
1/4 teaspoon turmeric
1/4 cup lemon juice
1/4 teaspoon turmeric
1/4 cup lemon juice
2 tablespoons chopped fresh dill
1/4 teaspoon freshly ground pepper
Directions
Place the broth and the rice in a large saucepan and bring to a boil over high heat.
Once boiling, reduce the heat to medium-low and cook the mixture for 15 minutes or until rice is tender.
Place 2 cups of the hot rice in a food processor along with the tofu, oil and turmeric, and process for about 1 minute until mixture is smooth and creamy.
Transfer the tofu mixture back to the saucepan and whisk together with the lemon juice, dill and pepper. Heat through and serve immediately.