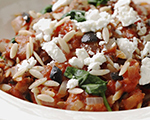 Prep: 10 min
Cook Time: 27 min
Total: 37 min
Serving: 2 servings
This is a quick version of a traditional Greek lamb dish. Using ground lamb, instead of a leg of lamb, helps keep this dish simple and effortless.
Ingredients
1/2 cup orzo
4 ounces lean ground lamb
2 tablespoons olive oil (for the orzo)
2 teaspoons extra-virgin olive oil
1 small onion, finely chopped
1 clove garlic, minced
1/4 teaspoon ground cinnamon
1/4 teaspoon crumbled dried oregano
Pinch of crushed red pepper
1 8-ounce can no-salt-added tomato sauce
1 tablespoon pitted, chopped black olives
1/8 teaspoon salt
1/8 teaspoon freshly ground pepper, or to taste
2 tablespoons crumbled feta cheese
2 tablespoons parsley, chopped
Directions
Cook the orzo according to package directions, drain and set aside.
In the meantime, place the ground lamb in a large sauté pan over medium heat and cook for 3 minutes. Drain, drizzle with 2 tablespoons of olive oil, toss and set aside.
Place the oil in the pan and sauté the onion over medium heat for 6 minutes until soft. Stir in the garlic, cinnamon, oregano and crushed red pepper and cook for an additional minute.
Return the lamb to the pan, simmer for 7 minutes and then remove the pan from the heat and stir in the olives, parsley, salt and pepper.
Divide the orzo between 2 plates, pour over the lamb mixture and then garnish with crumbled feta. Serve immediately.