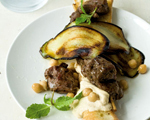 Prep: 10 min
Cook Time: 15 min
Total: 25 min
Serving: 4 Servings
Serve this delicious Greek lamb dish with a bottle of Greek Retsina or a glass of Malbec or Shiraz.
Ingredients
2 tablespoons oil, plus extra for drizzling
1-1/2 pounds pres-seasoned lamb kebobs
2 eggplants, thinly sliced lengthwise
4 bread sticks, or 1 thin baguette cut in half crosswise, then sliced lengthwise
1 7-ounce container hummus
1-14-ounce can chickpeas, drained
2 tablespoons fresh mint
Sea salt and freshly ground black pepper, to taste
Directions
Preheat the oven to 400 degrees.
Place a large frying pan over high heat. Once hot, sear the kebabs on all sides and then transfer to a baking sheet and place in the oven for 9 minutes.
Place 1 tablespoon of olive oil in a large sauté pan over high heat. Once hot add the eggplant and brown on each side.
Place a few spoonfuls of hummus on a serving plate and then top with the lamb and the eggplant.
Garnish the dish by adding a large spoonful of chickpeas, the fresh mint and a liberal drizzle of olive oil. Sprinkle with salt and pepper and serve.