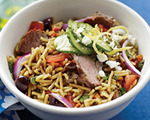 Prep: 10 min
Cook Time: 12 min
Total: 22 min
Serving: 4 Servings
The wonderful and vibrant flavors of the Greek islands are captured in this simple rice dish recipe. Enjoy it as a light lunch or dinner with a glass of Agiorgitiko or Xynomavro wine.
Ingredients
1 cup brown rice
1/2 pound thick sliced deli roast beef or cooked flank steak, cut into 1/2-inch pieces
1/2 cup chopped red onion
1/2 cup sliced ripe olives
3 plum tomatoes, seeded, chopped
1/3 cup olive oil
1/4 cup lemon juice
2 cloves garlic, crushed
1/2 teaspoon dried oregano
Sea salt and freshly ground pepper
1 medium cucumber, thinly sliced
1/2 cup (2 ounces) crumbled feta cheese
Directions
Cook the rice according to package directions, fluff with a fork and then set aside to cool.
In the meantime, whisk the olive oil, lemon juice, garlic, oregano and a few pinches of salt and pepper together until thoroughly blended.
Transfer the cooled rice to a large bowl and then add the roast beef, onion, olives and tomatoes. Pour in the prepared dressing and then gently toss to combine. Serve immediately topped with the feta cheese and the cucumber slices to garnish.