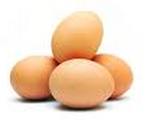 Prep: 10 min
Cook Time: 15 min
Total: 25 min
Serving: 2
Greek Island Omelet is filled with spinach and artichokes and is enough for two.
Ingredients
1, 9 ounce bag spinach
1/4 cup onion, chopped
1/4 cup canned artichoke hearts, rinsed and drained
1/4 cup plum tomato, chopped
4 eggs
2 tablespoons pitted ripe olives, sliced, rinsed and drained
dash black pepper
Directions
Spray small nonstick skillet with cooking spray; heat over medium heat until hot. Cook and stir onion 2 minutes or until crisp tender.
Add artichoke hearts. Cook and stir until heated through. Add spinach and tomato; toss briefly. Remove from heat. Transfer vegetables to small bowl. Wipe out skillet and spray with cooking spray.
Whisk eggs and pepper in medium bowl; add olives. Heat skillet over medium heat until hot. Pour egg mixture into skillet. Cook over medium heat 5-7 minutes; as eggs begin to set, gently lift edge of omelet with spatula and tilt skillet so uncooked portion flows underneath.
When egg mixture is set, spoon vegetable mixture over half of omelet. Loosen omelet with spatula and fold in half. Slide omelet onto serving plate.