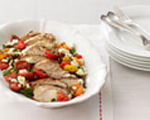 Prep: 1 hr
Cook Time: 15 min
Total: 1 hr 15 min
Serving: Serves 4
This super easy and quick meal livens up the taste of your grilled chicken with Greek feta cheese and Mediterranean flavors. Serve with a Greek white wine like Semeli Mountain Sun White or Spyros Hatziyiannis Santorini.
Ingredients
4 skinless, boneless chicken breasts
1 cup red wine vinaigrette (prepared or homemade)
1 tablespoon chopped fresh oregano
1/2 teaspoon salt
1 pound cherry tomatoes, halved
2 tablespoons red wine vinaigrette
1/4 teaspoon sea salt
1/2 tablespoons torn fresh oregano, plus more for garnish
1-1/2 ounces feta cheese crumbled
Directions
In a medium-sized bowl, mix the red wine vinaigrette, fresh oregano, and salt. Add the chicken and marinate for at least 1 hour, covered, in the refrigerator.
Meanwhile, prepare your grill or oven broiler.
Remove the chicken from the marinade and grill for about 12 minutes over medium-high heat, turning once. Set aside and keep warm.
Lower the heat on the grill to medium.
In a medium-sized bowl, add the tomatoes, red wine vinaigrette and salt and toss well. Place tomatoes on grill and sear on cut sides for about 2-3 minutes. Place back in bowl and sprinkle with fresh oregano; mix well.
Cut the chicken into slices and place on four plates. Spoon the tomatoes over the chicken and then sprinkle with the feta cheese and the remaining fresh oregano.