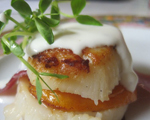 Prep: 25 min
Cook Time: 2 min
Total: 27 min
Serving: 12 Servings
Amazing appetizers for a summer party, these delicious grilled scallops are stacked with a thick slice of grilled apricot, salty prosciutto and peppery arugula, and then topped with a dollop of Greek yogurt.
Ingredients
1/4 cup Greek-style whole-milk yogurt
1-1/2 teaspoons white balsamic vinegar
Sea salt and freshly ground pepper
6 apricots, sliced in half
Extra-virgin olive oil
12 large sea scallops (1 1/4 pounds)
2 thin slices of prosciutto, cut into thin strips
1 cup arugula
Directions
Prepare a grill on high heat.
Mix the yogurt with the vinegar in a small bowl and sprinkle with salt and pepper. Set aside.
Brush each slice of apricot with olive oil and grill for 30 seconds on each side.
Brush all of the scallops with olive oil and then sprinkle with salt and pepper. Grill the scallops for 1-1/2 minutes per side turning once. When scallops cool slightly, cut into half crosswise.
On a serving plate take a piece of the scallop and top with an apricot slice. Place a slice of prosciutto on the apricot followed by some arugula. Secure the mini sandwich with a toothpick and then place a dollop of yogurt sauce on the top of the scallop. Serve immediately.