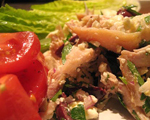 Prep: 30 min
Cook Time: –
Total: 30 min
Serving: 6 Servings
The wonderfully fresh flavors of Greece come alive with this delicious Greek chicken salad recipe, drizzled with lemon vinaigrette.
Ingredients
1 large garlic clove
1/8 teaspoon salt
1 teaspoon finely grated lemon zest
5 tablespoons fresh lemon juice
1/2 cup extra-virgin olive oil
Freshly ground pepper
4 cups skinless boneless rotisserie chicken pieces
2/3 cup pitted Kalamata olives, quartered lengthwise
1-1/2 cups crumbled feta cheese (about 6 ouces)
3/4 cup roughly chopped flat leaf parsley
1/2 cup finely chopped red onion
2 romaine hearts, quartered
6 medium tomatoes, cut into wedges
Directions
Finely mince the garlic and then sprinkle it with the salt. Mash the garlic into a paste and then place in a medium bowl.
Add the lemon zest, lemon juice, oil and a few grinds of fresh pepper, and whisk to combine.
Place the chicken into a large bowl and toss with 1/2 cup of the lemon vinaigrette. Add the olives, cheese, parsley and onion and toss once more.
Place the tomatoes and the romaine on a plate and drizzle with the remaining vinaigrette. Top the salad with the chicken mixture and serve.