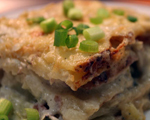 Prep: 10 min
Cook Time: 30 min
Total: 40 min
Serving: 4 Servings
Mixing the fennel with the potato creates a very light and flavorful dish, with delicate undertones of anise and garlic.
Ingredients
5 garlic cloves
1-1/2 pounds fennel, stocks and base sliced thinly
4 tablespoons of olive oil
1-1/2 pounds fingerling potatoes, sliced thinly
Sea salt and freshly ground black pepper
Directions
Preheat the oven to 400 degrees.
In a medium-sized sauté pan, heat the oil over medium-low heat. Add the garlic and the fennel, sprinkle with salt and pepper and sauté for 6 minutes until soft.
Add the potatoes to the pan and increase the heat to medium-high. Continue to sauté the mixture for 5 minutes, or until the potatoes start to brown.
Transfer fennel mixture to a glass baking dish, cover with foil and bake in oven for 16 minutes. Remove foil and continue to bake for 4 more minutes until lightly browned on top. Serve immediately.