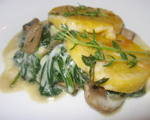 Prep: 10 min
Cook Time: 1 hr 10 min
Total: 1 hr 20 min
Serving: Serves 4-6
Polenta, which is ground cornmeal, is a staple Italian comfort food. Enjoy this gratin recipe as a hearty and cheesy side dish to lamb or a Sunday roast.
Ingredients
2 tablespoons extra-virgin olive oil
12 ounces sliced mixed wild mushrooms (5 cups)
1 large shallot, minced
8 ounces prewashed baby spinach (8 lightly packed cups)
1/2 teaspoon thyme
Pinch freshly grated nutmeg
Salt and freshly ground pepper
1 tablespoon unsalted butter
1 tablespoon all-purpose flour
3/4 cup chicken stock or low-sodium broth
1/2 cup cream
1 (18-ounce) package prepared polenta, cut into 1/4-inch slices
3 ounces Gruyere cheese, shredded (1 cup)
Directions
Preheat your oven to 350 degrees F.
In a large saute pan, add the oil and heat on high until oil is hot but not smoking.
Place the mushrooms in the pan and saute for about six minutes. Turn down the heat to medium-low and add in the shallot; continue to cook for about three minutes.
Increase the heat to medium-high and add the spinach, thyme and nutmeg to the mixture. Saute for about two minutes and then sprinkle with salt and pepper. Place the spinach in a 2-quart baking dish and spread out evenly to cover the entire bottom.
Melt the butter in a small saucepan and then add the flour and cook, whisking constantly, over medium-high heat. Pour in the chicken stock, cream and a sprinkle of salt and pepper and continue to briskly whisk for approximately five minutes until the sauce is thick. Pour the sauce over the spinach.
Lay the slices of polenta over the spinach in a row with a slight overlap between slices. Lightly push polenta down so it is nestled in the spinach and sauce.
Sprinkle the Gruyere cheese over the polenta and then cover the entire pan with aluminum foil. Bake for 40 minutes.
Switch the oven to boiler and remove the foil from the polenta. Broil the polenta about six inches from the heat until polenta turns a golden color, about two minutes. Remove pan from oven and let stand for at least ten minutes before serving.