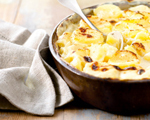 Prep: 35 min
Cook Time: 10 min
Total: 45 min
Serving: 6-8 Servings
This classic French side-dish pairs deliciously with a Sunday Roast. If you like a bit of tang to your potatoes, substitute 1 cup half-and-half with Greek yogurt.
Ingredients
1 garlic clove
1 tablespoon butter, softened
2-1/2 pounds baking potatoes, peeled and sliced very thin
3 cups half-and-half
1 teaspoon salt
1/4 teaspoon freshly ground black pepper
1 pinch freshly grated nutmeg
1 cup Gruyere cheese
Directions
Preheat the oven to 350 degrees and prepare a 3-quart baking dish by rubbing with the garlic clove and then greasing with the butter.
In a large saucepan, add the potatoes, cream, salt, pepper and nutmeg and set over medium heat. Bring to a boil, stirring frequently, and cook for 6 minutes.
Transfer the mixture into the prepared baking dish, making sure that the potatoes are well covered with the cream sauce.
Sprinkle the cheese on top of the potatoes and bake in the oven for 50 minutes, or until the cheese is golden and the potatoes are tender.