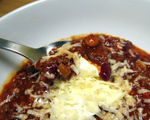 Prep: 10 min
Cook Time: 45 min
Total: 55 min
Serving: 4 Servings
Eating grassfed beef is both a healthier and tastier option than traditional beef. You can find it in most supermarkets or organic and natural food stores.
Ingredients
2 tablespoons extra virgin olive oil
1 large onion, coarsely chopped
2 cloves garlic, minced
2 tablespoons chili powder
2 teaspoons ground oregano
1 teaspoon ground cumin
1/2 teaspoon crushed red pepper
1 pound grassfed ground beef
1 (15-ounce) tomato sauce
1 cup water
1 cup cooked kidney beans
1 cup cooked black beans
Sea salt
1/2 cup chopped cilantro
Shredded cheddar cheese to garnish
Directions
Place a large Dutch oven over medium heat and then add the olive oil.
Once the oil begins to shimmer, add the onion and the garlic and sauté for 5 minutes, stirring frequently.
Sprinkle in the chili powder, oregano, cumin and crushed red pepper, stir to combine, and then add the beef and brown for 5 minutes.
Stir in the tomato sauce, water and beans and then add some salt to taste. Bring the mixture to a boil and then cover and reduce heat to medium-low.
Simmer the chili for 30 minutes, stirring often, and then remove from the heat and stir in the cilantro. Serve immediately topped with shredded cheddar cheese.