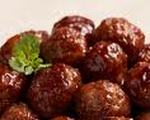 Prep: 20 min
Cook Time: 45 min
Total: 1 hr 5 min
Serving: 8
Grape Jelly Meatballs are sweet and sour and make a terrific hot appetizer.
Ingredients
1 egg beaten with 1/2 cup milk
1/2 cup onion, diced
1 pound ground beef
1/2 cup bread crumbs
1 teaspoon parsley
1/2 teaspoon salt
dash pepper
1, 10 ounce jar chili sauce
1, 10 ounce jar grape jelly
Directions
Cook together the chili sauce and grape jelly until jelly melts.
Mix together first 8 ingredients well and form into small balls and brown on all sides. Pour off grease. Add cooked sauce and simmer 30 minutes.