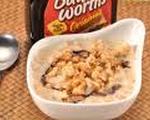 Prep: 2 min
Cook Time: –
Total: 2 min
Serving: 1-2 People
Nothing gets a young mind ready for school like a delicious breakfast. This year, get your child prepared and alert in the morning with some great back-to-school recipes from Mrs. Butterworth's—the thick, rich, and buttery syrup that has been brightening up breakfast tables for generations.
Mrs. Butterworth's has always enjoyed making kids smile and has been working overtime to make sure her loving fans get some new, exciting ways to enjoy the morning.
Whether it's a breakfast pleasure or an afternoon snack, this recipe for granola, syrup, and milk, created by celebrity chef Kevin Roberts, will make your mouth water. Kevin, also known as the "The Food Dude," is author of "Munchies and Kissing in the Kitchen," a media personality, an executive chef, the owner of three successful restaurants, and host of TLC's "BBQ Pitmasters."
Just when you think, "breakfast is boring," try this fun and fresh idea that might just become your favorite before school dish!
Ingredients
2 cups granola
2 cups milk
2 teaspoons Mrs. Buttersworth's Original Syrup
Directions
In a medium bowl, add granola, milk, and top with syrup. Serve before it gets soggy.