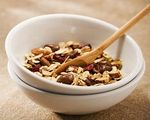 Prep: 30 min
Cook Time: 8 hr
Total: 8 hr 30 min
Serving: 6
I love the crunch of the granola with the soft apples.
Ingredients
3 large green apples, peeled and sliced
1/4 cup honey
1/4 cup butter
2 cups granola with fruit and nuts
1 tsp. cinnamon
1/2 tsp nutmeg
Directions
Combine apples and ceral in a crock pot.
Combine butter, honey, nutmeg, cinnamon in a bowl.
Pour the mixture over the apples and ceral.
Stir until mixed well.
Cover and cook on low for 7 to 8 hours.