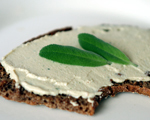 Prep: 1 hr 15 min
Cook Time: 10 min
Total: 1 hr 25 min
Serving: 4 Servings
This rich and luxurious spread is similar in consistency to pâté, but at a fraction of the cost. Perfect for one of your more 'posh' parties, this spread can be served on crackers, toasted pieces of French bread or as a dip for breadsticks.
Ingredients
1/4 pound firm tofu, halved lengthwise
1 teaspoon olive oil
1 medium onion, finely chopped
3/4 cup finely chopped mushrooms
1 cup chopped steamed green beans
1/4 cup chopped walnuts
2 tablespoons chopped flat-leaf parsley
1 teaspoon chopped sage
1/4 teaspoon ground allspice
1/4 teaspoon salt
Freshly ground pepper
Parsley sprigs (optional)
Directions
In a single layer, place tofu between two small plates and weigh down the top with a heavy can. Keep pressed for no more than 60 minutes. Remove tofu and discard any liquid.
In a large nonstick sauté pan, heat the olive oil and sauté the onion until translucent. Add the mushrooms, beans and walnuts and sauté about 5 minutes.
Place the mixture into a food processor. Add the parsley, sage, allspice, salt and pepper, and pulse approximately 10 times or until relatively smooth.
Shred the tofu width-wise and then squeeze to remove any excess liquid. Add the tofu into the vegetable mixture and refrigerate, covered, for 1-1/2 hours. Garnish with parsley sprigs if desired.