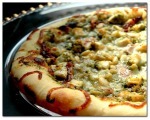 Prep: 15 min
Cook Time: 30 min
Total: 45 min
Serving: Serves 6 people
Who doesn't love pizza? Use a prepared crust (or ready-to-bake doug) and Gourmet Mushroom & Pesto Pizza becomes a quick and delicious treat any night of the week for family or friends.
Ingredients
Store-bought pizza dough (for 12-inches) or prepared crust
2 ounces porcini mushrooms
3/4 cup fresh basil
1/3 cup pine nuts
1-1/2 ounces fresh Parmesan cheese, sliced thinly (more for topping the pizza)
6 tablespoons olive oil
2 onions, thinly sliced
8 ounces cremini mushrooms, thinly sliced
Salt and fresh ground black pepper to taste
Directions
For the pizza topping, first soak the porcini mushrooms in hot water for about 20 minutes, drain and set aside. Add the bail, pine nuts, Parmesan cheese and about 4 tablespoons of the olive oil into a food processor and blend until you get a smooth paste. Set aside.
With the remaining olive oil, add to a small saute pan over medium heat and cook the cremini mushrooms for about 2 minutes. Add the porcini mushrooms, season with the salt and pepper to taste and stir so all is mixed together.
Preheat your oven according to the pizza dough instructions. Meanwhile, spread the pesto mixture to the edges of the dough. Spread the mushroom mixture on top of that. Sprinkle with grated Parmesan cheese. Bake until golden.