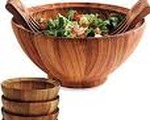 Prep: 6 hr 25 min
Cook Time: 15 min
Total: 6 hr 40 min
Serving: 6
Fresh mushrooms, artichokes and other good things come together to make Gourmet Beef Salad Vinagreta a delicious meal.
Ingredients
1 1/2 pounds cooked roast beef, sliced 1/4 inch thick
2 tablespoons lemon juice
10 tablespoons olive oil
8 ounces fresh mushrooms, cut in half
1, 7 ounce can artichokes hearts, drained and halved
3 tomatoes, cut in wedges
1/4 cup red wine
1/4 cup red wine vinegar
1/2 teaspoon salt
1 package Italian salad dressing mix
Bibb lettuce
Directions
Cut beef into 1 by 3 inch strips. Combine lemon juice and 2 tablespoons oil in skillet. Add mushrooms, cooking until tender-crisp. Combine mushrooms, artichokes hearts, tomatoes and beef in large bowl.
Stir next 3 ingredients into salad dressing mix in small bowl. Add remaining 1/2 cup oil, blending well. Pour over beef mixture. Chill covered, for 2 to 6 hours, stirring several times.
Line serving bowl with lettuce leaves. Arrange tomato wedges around edge of bowl. Drain remaining salad. Arrange in serving bowl.