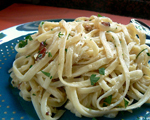 Prep: 30 min
Cook Time: 30 min
Total: 1 hr
Serving: Serves 4
The egg yolks added to the boiled pasta give it a gourmet-like finishing touch that makes this simple pasta recipe look complex. Perfect for a quick meal or unexpected guests.
Ingredients
2 slices country-style bread
6 tablespoons olive oil
1 medium yellow onion, chopped
2 cloves garlic, finely chopped
3/4 teaspoon crushed red pepper
1/4 teaspoon sea salt
3 tablespoons chopped parsley
2 tablespoons chopped capers
1 large lemon, zested
3/4 pounds linguine
3 egg yolks
3/4 cup grated Parmigiano-Reggiano
Directions
Preheat the oven to 350 degrees.
Cut the bread into 1/3-inch cubes and toss in a bowl after drizzling 1 tablespoon of the olive oil on top. Spread the bread cubes in a single layer on a baking sheet, lightly season with salt and pepper and bake for 3 minutes until golden brown.
Fill a medium pot with water and bring to a rolling boil.
In a large sauté pan, heat 4 tablespoons of olive oil over medium-high heat, and sauté the onion, garlic, red pepper and salt until onions are soft and translucent. Remove the sauté pan from the heat and mix in the parsley, capers, and lemon zest.
Sprinkle 2 tablespoons of salt into the boiling water and add the pasta, cooking according to package directions. Drain pasta but reserve 3 tablespoons of the pasta water.
In a small bowl, slowly whisk the pasta water into the egg yolks, along with 1 tablespoon of oil.
Add both the linguine and egg mixture to the sauté pan and cook, tossing frequently, until warmed through, about 2 minutes. Transfer pasta to a serving bowl and sprinkle with cheese and croutons. Serve immediately.