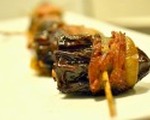 Prep: 10 min
Cook Time: 35 min
Total: 45 min
Serving: 4-6 People
Bacon is one of the ingredients that makes everything taste better. A salad, a sandwhich and even a cupcake is made even more decadent with a salty piece of bacon. These appetizers are no different. A simple date is made irresistable wrapped in bacon and stuffed with savory gorgonzola cheese. You'll have trouble eating just one of these!
Ingredients
8 pitted Medjool dates
3 tablespoons crumbled gorgonzola cheese
4 large pieces bacon, cut in half
3 large pitted olives, chopped
1/8 teaspoon salt
1/8 teaspoon pepper
Cooking spray
Directions
Preheat oven to 425 degrees F. Line a cookie sheet with foil and heavily coat in cooking spray. Set aside.
Carefully stuff each date with about 1/4 teaspoon cheese, dash of pepper and 1/8 teaspoon of chopped olives. Wrap date in raw bacon, end side down on the cookie sheet. Repeat until ingredients are done.
Sprinkle dates with salt and pepper and bake for about 35-40 minutes, or until bacon is browned and crispy.
Serve with a toothpick and enjoy!