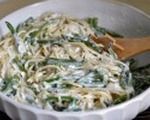 Prep: 5 min
Cook Time: 20 min
Total: 25 min
Serving: Serves 6 people
If you're in the mood for a creamy pasta but can't stomach the thought of Alfredo, why not try this amazingly tangy and creamy pasta made with Gorgonzola cheese? It's got the creamy texture you love with the distinct, bold flavor of Gorgonzola. Paired with fresh from the farm green beans and linguine, this pasta is as fresh and easy as it is delicious.
Ingredients
8 ounces linguine noodles
3/4 cup Gorgonzola cheese
1 1/2 cups light cream
2 tablespoons sage
1 tablespoon butter
1/2 large onion, chopped
1 cup cooked green beans
Liberal dashes of salt and pepper
1/4 cup skim milk
Directions
Cook pasta according to package directions and rinse. Set aside.
In a 3-quart pan, heat butter over medium high heat. Add onions and cook until fragrant and translucent, about 3 minutes. Add in cream and skim milk, and heat until it's reduced by about half, or 10 minutes or so. Remove from heat and immediately stir in sage and cheese, stirring until cheese is melted and the sauce is smooth.
In a large bowl, mix together the pasta and the green beans. Pour sauce over the pasta, mix so the noodles are covered and enjoy!