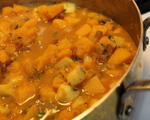 Prep: 5 min
Cook Time: 8 min
Total: 13 min
Serving: 4 Servings
Compote, French for the word 'mixture,' is a dish made with whole pieces of fruit, spices and sugar. Enjoy this sweet and savory compote spooned over pork loin, chicken or lamb.
Ingredients
2 tablespoons unsalted butter v
5 ounces butternut squash, peeled and cut into 1/2-inch dice (1 cup)
1 large shallot, minced
1/2 Granny Smith apple, peeled, cored and cut into 1/2-inch dice
1/4 teaspoon ground cinnamon
1/4 teaspoon cayenne pepper
1-1/2 cups golden raisins, (1/2 pound)
1/2 cup dry white wine
2 tablespoons honey
2 teaspoons chopped thyme
Sea salt and freshly ground black pepper
Directions
Place the butter into a large sauté pan over medium heat. Once melted, stir in the squash and cook, covered, for 3 minutes.
Add the shallot to the pan and sauté for 1 minute before stirring in the apple, cinnamon and cayenne, and cooking for 1 additional minute.
Mix in the raisins, wine, honey and thyme and continue to cook the mixture until almost dry. Add a few pinches of salt and pepper, and then transfer the mixture to a bowl. Serve immediately.