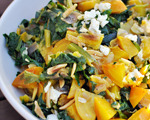 Prep: 15 min
Cook Time: 1 hr
Total: 1 hr 15 min
Serving: 5 Servings
Roasted golden beets are tossed with sautéed beet greens and garlic, toasted almonds and goat cheese to create this amazing dish.
Ingredients
1 bunch beets with greens
Olive oil
Salt and freshly ground black pepper
4 cloves garlic, minced
4 ounces goat cheese, crumbled
2/3 cup toasted almond slivers
Directions
Preheat your oven to 425 degrees Fahrenheit.
Trim off the beet greens, reserve, and then place the beet roots onto a large square of foil. Drizzle each beet with some olive oil, sprinkle with a few generous pinches of salt and pepper and then seal the foil around the beet to enclose. Cook the beets in the oven for 60 minutes and then set aside to cool.
In the meantime, place 1 tablespoon of olive oil in a large sauté pan over low heat. Add the garlic and cook for 5 minutes. Chop the beet greens into small pieces and then add to the pan. Cook the mixture for 10 minutes over medium-low heat and then transfer the mixture to a bowl.
Peel the beet roots and then chop into pieces. Add the beets to the bowl with the greens, along with the goat cheese, almonds and a few pinches of salt and pepper. Gently toss the mixture to coat and then serve.