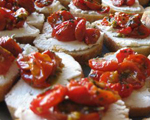 Prep: 40 min
Cook Time: –
Total: 40 min
Serving: Serves 4-6
Goat cheese, or chevre, has a creamy texture with a delightful tangy bite. Enjoy it in this appetizer paired with fresh tomatoes and Italian herbs.
Ingredients
1 baguette
2 roma tomatoes
2 garlic cloves
1 tablespoon olive oil
8 ounces goat cheese
Combination of dried Italian herbs (such as fennel, oregano, basil, or thyme)
Directions
Slice the baguette into 3/4-inch slices, spread with the goat cheese and sprinkle with the herbs. Set aside on a serving platter.
In a food processor, add the tomatoes, the garlic and the olive oil and puree until smooth.
Immediately strain the tomato mixture using a sieve. Discard the juice and spoon the remaining tomato mixture on top of the cut slices of baguette.