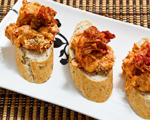 Prep: 20 min
Cook Time: 1 hr
Total: 1 hr 20 min
Serving: Serves 4-6
Crostini means "little toasts" in Italian and consists of small slices of toasted bread with a variety of toppings. Use French or Italian bread for best results.
Ingredients
1 16 ounce can of whole peeled tomatoes
3 tablespoons of ketchup
6 garlic cloves, minced
1 onion, chopped
1/2 cup chicken stock
2 teaspoons thyme
3 basil leaves, chopped
1/2 teaspoon sugar
10 ounces goat cheese
1/8 cup of pine nuts
1 cup of basil leaves
Olive oil
1/8 parmesan cheese
1 baguette
Directions
In a medium-sized sauté pan, heat the oil over medium-high heat until hot but not smoking. Add the onions and sauté until soft and translucent, approximately 6 minutes, and then add the ketchup and continue to cook for 1 more minute.
Add the tomatoes, stock, basil, sugar and thyme and bring to a simmer. Reduce the heat to medium-low and continue to simmer the sauce for 40 minutes. Using an immersion blender, puree the marinara sauce until smooth.
Preheat the oven to 400 degrees.
Slice the goat cheese in half and place in a baking dish. Pour the marinara sauce around the cheese and then bake for 12 minutes.
Using a food processor, mix the basil, pine nuts, garlic and Parmesan cheese together. While using the pulse function, slowly pour in the oil until reaching the desired consistency.
Slice the baguette into 3/4-inch slices and spread with some of the pesto sauce, followed by a spoonful of the goat cheese with marinara. Serve immediately.