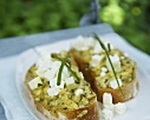 Prep: 15 min
Cook Time: 5 min
Total: 20 min
Serving: 4 People
"Courgette" is the french word for zucchini and is becoming quite popular in the United States and beyond. Try this courgette recipe for a delicious appetizer the next time you entertain.
Ingredients
2 large courgettes
2 lemons
16 basil leaves
8 tbsp olive oil
1 package of goat cheese
8 slices of a French baguette
Salt and pepper to taste
Directions
To make the dressing, grate the zest from one lemon into a medium bowl and then add the juice. Shred the basil leaves and mix them in with the lemon. Add in the olive oil. Add some salt and pepper and crumble in the goat cheese. Stir gently.
Rinse and dry the courgettes. Slice them thinly using a vegetable peeler. Heat oil in a frying pan and cook courgette slices until golden brown. Then add them to the bowl with the dressing.
Toss gently until all slices are coated in dressing. Toast baguette slices and scoop the courgette mixture onto each slice.