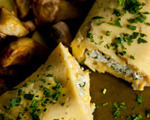 Prep: 5 min
Cook Time: 7 min
Total: 12 min
Serving: Makes 1 omelet
Use creamy chèvre goat cheese for this recipe; its slightly tangy and rich consistency makes the perfect filling for this fresh herb omelet.
Ingredients
2 tablespoons fresh chèvre, at room temperature (about 1 ounce)
2 teaspoons finely chopped fresh herbs, such as parsley, chervil, or chives, plus more to garnish
3 large eggs
2 teaspoons whole milk
1/4 teaspoon sea salt
1/8 teaspoon freshly ground black pepper
1 tablespoon unsalted butter
Directions
Place the goat cheese and the fresh herbs into a small bowl and mix well to combine.
Put the eggs, milk and salt into a bowl and whisk until the mixture is frothy.
Place the butter into a large sauté pan or a skillet over medium heat. Once the butter begins to foam, add the egg mixture and rotate the pan to distribute the egg.
After about 3 minutes and once the eggs have just set, spoon the goat cheese and herb mixture down the center of the omelet and then carefully fold the omelet in half. Cook the omelet for an additional 1-1/2 minutes over medium-low heat and then serve garnished with the remaining fresh herbs.