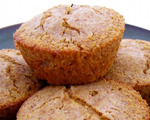 Prep: 10 min
Cook Time: 20 min
Total: 30 min
Serving: 12
If you're on a gluten-free diet, these pumpkin corn muffins will become your new favorite food!
Ingredients
3 large organic free-range eggs
1/2 cup olive oil
3/4 cup organic pumpkin
3/4 cup organic light brown sugar
1 teaspoon bourbon vanilla extract
1 teaspoon cinnamon
1/4 teaspoon pumpkin pie spice
1/4 teaspoon nutmeg
1 cup Bob's Red Mill Gluten-Free Cornmeal
1 cup gluten-free pancake and baking mix
1 teaspoon baking powder
1/2 teaspoon sea salt
Directions
Preheat the oven to 350 F and line a muffin tin with paper muffin liners.
In a large mixing bowl, beat the eggs till frothy, add oil and whisk until combined well. Add the pumpkin, brown sugar, vanilla extract, cinnamon, nutmeg and pumpkin pie spice and whisk to combine.
In a separate mixing bowl, combine the cornmeal, baking mix, baking powder, and sea salt.
Using a wooden spoon, gradually add the dry ingredients into the wet ingredients while stirring by hand until batter is smooth. Drop the batter by spoonfuls into the muffin cups. Bake for 20 minutes until muffins are golden and a toothpick inserted into the center comes out clean.