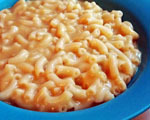 Prep: –
Cook Time: –
Total: –
Serving: Makes 4 servings
Creamy and satisfying, macaroni and cheese is the perfect choice for cold weather days. Hot sauce, dry mustard, and nutmeg enhance and deepen the flavors of this American classic. Pair this gluten-free version (which can also be dairy-free) with a steaming bowl of our Mediterranean Tomato Soup with Rice.
Recipes from: 1,000 GLUTEN-FREE RECIPES by Carol Fenster
Ingredients
3 cups milk (cow's, rice, soy, potato, or nut)
3 tablespoons sweet rice flour (4 tablespoons if using rice or potato milk)
2 tablespoons unsalted butter or buttery spread, such as Earth Balance
2 cups (12 ounces) grated sharp cheddar cheese or cheese alternative, such as Vegan Gourmet
1 cup (6 ounces) grated Monterey Jack or mild white cheese or cheese alternative, such as Vegan Gourmet
2 tablespoons grated Parmesan cheese or soy alternative, such as Soyco
1 teaspoon hot pepper sauce, such as Frank's
1/2 teaspoon dry mustard
1/8 teaspoon freshly grated nutmeg
2 cups (about 8 ounces) gluten-free elbow macaroni, such as Pastariso, cooked al dente in salted water according to package directions
4 cups gluten-free bread of choice, torn in small pieces for bread crumbs (Substitute with 1 cup store-bought gluten-free bread crumbs, such as Ener-G)
Paprika, for garnish
Directions
Place a rack in the middle of the oven. Preheat the oven to 350 degrees F. Generously grease a 2-quart ovenproof baking dish.
Place all but 1/4 cup of the milk in a heavy medium saucepan. In a small bowl, stir the sweet rice flour with the remaining 1/4 cup of milk until it is smooth and then whisk it into the milk. Cook over medium heat, whisking constantly, until the mixture thickens. Add the butter and stir until it is melted.
Remove the pan from the heat and stir in the cheeses, hot pepper sauce, mustard, and nutmeg until the cheeses are completely melted. While the pasta is still hot, add it to the sauce and toss to coat the pasta thoroughly with the cheese sauce. Transfer the mixture to the baking dish.
Place the bread in a food processor and pulse on/off until the crumbs reach desired consistency. (Store tightly covered in the refrigerator for up to 2 weeks and in the freezer up to 3 months.)
Bake 15 minutes. Sprinkle with bread crumbs and a dusting of paprika. Bake 15 minutes more or until the cheese is bubbly and the bread crumbs are browned. For speedier results, place a broiler rack about 6 inches away from the heat source. Preheat the broiler and broil the dish until the bread crumbs are browned and crunchy. Let stand 5 minutes. Serve immediately.