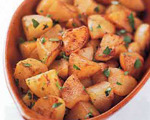 Prep: 10 min
Cook Time: 25 min
Total: 35 min
Serving: 4 Servings
These turnips make a sweet and buttery side dish that pairs well with roasted meats and poultry dishes.
Photo by Romulo Yanes.
Ingredients
2 pounds small to medium (2-inch) turnips
2 cups water
1/4 teaspoon salt
2 tablespoons butter
1 tablespoon brown sugar
1-1/2 teaspoons snipped fresh thyme
Directions
Place the water and the salt into a saucepan and bring to a boil. Add the turnips to the pot and return to a boil. Once boiling, reduce the heat to medium-low, cover and simmer for 10 minutes. Drain the turnips and set aside.
Put the butter into a large sauté pan over medium heat. Once melted, add the sugar and thyme, stirring continuously until all the sugar has dissolved. Add the turnips to the pan; bring the mixture to a boil and then reduce the heat and cook over medium-low for 10 minutes.