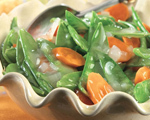 Prep: 10 min
Cook Time: 15 min
Total: 25 min
Serving: 8 servings
All you need for this colorful and flavorful side dish are some fresh carrots and peas, lemon juice, vegetable broth and a bit of cornstarch. The result is a wonderful accompaniment to almost any main dish meal.
Ingredients
4 teaspoons cornstarch
1-3/4 cups Vegetable Broth
4 medium carrots, sliced
1 medium onion, chopped
3/4 pound snow peas
1 teaspoon fresh lemon juice
Directions
Place the cornstarch and 1 cup of the broth into a small bowl and whisk vigorously until completely blended.
Put the remaining broth into a sauté pan over medium-high heat and bring to a boil. Add the carrots and the onion to the pan, cover and cook over low heat for 6 minutes. Stir in the peas and cook for an additional 3 minutes.
Pour the cornstarch mixture into the pan and bring to a boil over medium-high heat, stirring constantly to prevent sticking. Once the mixture becomes thick, add the lemon juice, stir to combine and then serve immediately.