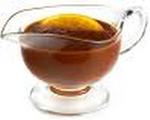 Prep: 15 min
Cook Time: 1 hr 45 min
Total: 2 hr
Serving: 8
Glazed Smoked Ham has a wonderful flavor and will satisfy all your hungry holiday guests.
Ingredients
1 large onion, quartered with root end intact
1, 5 to 7 pound smoked ham, shank end
3/4 cup apricot jam
1/4 cup water
8 sprigs fresh thyme, stripped
3 tablespoons yellow mustard
4 tablespoons cider vinegar
2 teaspoon molasses
1/2 teaspoon Worcestershire sauce
1/4 teaspoon ground allspice
pinch ground cloves
1 1/2 cups chicken broth
1 tablespoon unsalted butter
1 tablespoon flour
kosher salt and freshly ground black pepper
Directions
Preheat oven to 350 degrees F. Score the ham with a cross hatch pattern through the thick layer of skin and fat. Arrange the onions in the center of a foil lined roasting pan and set the ham on top of them. Bake for 1 hour.
Meanwhile, stir together the apricot jam, water, thyme leaves, mustard, 3 tablespoons of the vinegar, molasses, Worcestershire, allspice and cloves in a saucepan. Whisk over medium heat until the jam has dissolved and the sauce is smooth, about 4 minutes. After the ham has baked for 1 hour, brush with apricot mixture every 15 minutes for another 45 minutes or until nicely glazed. Transfer the ham to a serving platter, tent with foil and set aside while making the sauce.
Discard the onions, remove foil and pour the sauce into a skillet. Add the broth and bring to a boil over high heat. In a small bowl, mix the butter and flour together to form a paste. Whisk into pan juices and let sauce simmer until thickened like gravy. Finish with remaining tablespoon vinegar and season with salt and pepper to taste.