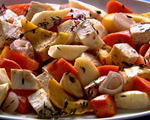 Prep: 15 min
Cook Time: 10 min
Total: 25 min
Serving: 4 Servings
Enjoy these glazed root vegetables as a side dish or use them for garnishing as they have beautiful presentation and color.
Ingredients
2 cups vegetables (onions, carrots, turnips, parsnips, rutabaga, potatoes, salsify, sweet potatoes), peeled, trimmed and cut into 1/2-inch pieces
1 cup chicken broth
2 tablespoon butter
2 teaspoons sugar or honey
1/2 teaspoon sea salt
freshly ground black pepper
Directions
Place all of the ingredients in a large saucepan over medium-high heat and bring to a simmer.
Once simmering, cover the pan and reduce the heat to medium-low. Cook the mixture until all of the liquid has been almost absorbed.
Remove the cover off the pan and continue to cook until the vegetables are left with a glaze. Season the mixture with additional salt and pepper before serving.