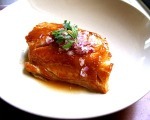 Prep: 10 min
Cook Time: 10 min
Total: 20 min
Serving: Serves 4 people
This elegant, healthy meal is easy to make. Glazed Cod with Vegetables will impress your dinner guests with flavor and sophistication.
Ingredients
1 cup of long-grain white rice
1/4 cup of hoisin sauce
1 pound of black cod (you can substitute salmon if you prefer))
1 pound of asparagus, trimmed and cut
4 ounces of small shiitake mushrooms (remove the stems)
2 tablespoons of olive oil
kosher salt and pepper to taste
Directions
First cook the rice according to the package directions.
Place your oven rack in the middle and heat the broiler.
Mix together the hoisin sauce and 1 tablespoon of water in a small bowl. Put the fish, skin side down, on a baking pan that has been lined in aluminum foil. Spread the hoisin sauce on top of the fish.
In a medium bowl, toss together the asparagus, mushrooms, oil, 1/4 teaspoon of salt and 1/4 teaspoon of pepper. Place the vegetables around the fish, spread out evenly.
Broil the fish and vegetables, stirring the vegetables once until they are tender and the fish is cooked through and opaque (about 7 minutes, based on the thickness of the fish).
Use a spatula to serve the fish, first sliding it between the fish and the skin of the fish. Serve the fish (without the skin) on individual plates surrounded by the vegetables and the rice.