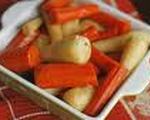 Prep: –
Cook Time: 10 min
Total: 10 min
Serving: Serves 8
Sweetly caramelized carrots and parsnips are a kid-friendly fave that adults certainly won't turn down. This yummy gem of a side dish can be made up to two days ahead and reheated.
Ingredients
1 pound small carrots, cut into 2-inch lengths
1 pound small parsnips, cut into 2-inch lengths
1/4 cup water
1/4 cup freshly squeezed orange juice
3 tablespoons unsalted butter, melted
2 to 3 tablespoons agave nectar
3 tablespoons fresh lemon thyme leaves
Salt and freshly ground black pepper, to taste
Directions
In a large skillet over medium heat, combine carrots, parsnips, water, and orange juice. Cover and cook, stirring occasionally, until vegetables are just tender.
Add butter, agave, and thyme and cook, uncovered, stirring often, until liquid has evaporated and vegetables are glazed. Season with salt and pepper, stirring one last time.
Remove from heat and let cool completely. Refrigerate until ready to serve. To reheat, place carrots and parsnips in a large skillet over medium heat. Cook, stirring often, until heated through. You can add a bit of water if skillet is dry.