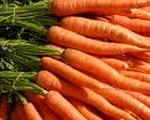 Prep: 10 min
Cook Time: 30 min
Total: 40 min
Serving: 4
Glazed Carrot Packet is made easy cooked on the grill or in the oven.
Ingredients
1, 18 by 24 inch sheet heavy duty aluminum foil
1, 16 ounce peeled baby carrots
1/3 cup orange marmalade
1/4 cup brown sugar
1/2 teaspoon ground cinnamon
1 tablespoon butter
Directions
Preheat oven to 450 degrees F or preheat grill to medium high.
Center carrots on aluminum sheet. Combine orange marmalade, brown sugar and cinnamon; spread over carrots. Top with butter.
Bring up sides of foil and double foil. Double fold ends to form one large foil packet, leaving room for heat circulation inside packet.
Bake 30 minutes on a cookie sheet in oven OR grill 20 minutes in covered grill.